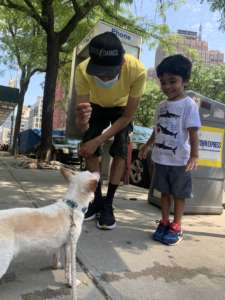 If you're in the process of looking for a pet care provider, but are unsure about having an outsider in your home. YOU ARE NOT ALONE. The best we can do is listen to your concerns and use our tried and true training techniques to aim for a contactless pick up. Oh, we're gonna LOVE your dog… and shower them with treats and pets. So when we say CONTACTLESS we mean no contact between people and minimal contact with your home… Our goal is to keep your home. YOUR BUBBLE. Your germ free place of existence inhabited by only the Cooties you come with.
A SUCCESSFUL CONTACTLESS PICK UP
Our ability to insure nothing in the home is touched by the D&D team requires a collaborative effort. Over time with the D&D team, our DAWGS learn that our whistle means "stay with me, because this next bit of information applies to you…" We then teach all of our dogs "COME" in the form of a touch target, teaching them to come to the hand.
PRIOR TO OUR ARRIVAL
We will need your pups harness or collar – either on prior to pick up or outside the door. (We would prefer harness and collars be left on)
D&D team members will be supplied with proper PPE and personal leashes
D&D team members will put on a fresh pair of gloves prior to every pick up.
AT PICK UP
D&D team members will show up with their masks on. (NO EXCEPTIONS)
After gaining access to your home. We will open the door, whistle, provide a touch target and when your dawg meets us at the door, tail wagging we will bookmark that action – with a special treat!!!
Using our fresh pair of gloves, your walker will use his or her own personal leash and attach it to your dogs collar or harness… Then it's off to the races.
Our ability to provide contactless pick up is largely dependent upon the preparation of the household and the dogs willingness to respond. Our old pups know the drill… NEW CLIENTS… there is a learning curve. We will discuss.
AT DROP OFF
If grooming materials are left outside the door, we will happily complete any requested post walk grooming routines before concluding our walk.
We will then open the door, detach our leash from your dogs harness or collar and let Puppy in.
NOTE: Post walk request requiring us to go into the home, will essentially nullify our contactless attempts; However, it will still be completed upon request. If you are home at the time of drop off, those tasks will be deferred to our pet parents to comply with social distancing practices
YOU DON'T WANT OUR COOTIES!!!
& We Don't Want Yours
BEFORE PROVIDING SERVICES
ALL D&D staff will have produced a negative COVID-19 test as of August 10th 2020.
TEMPERATURE CHECKS
All D&D team members will be subject to daily temperature checks. Above average temperatures will result in dismissal for the day and a self quarantine period where D&D management and staff will closely monitor the development of other symptoms.
SYMPTOMS
Anybody showing signs of illness will be dismissed and asked to self quarantine for a minimum of 10 days or until it can be proven that he or she is Covid free.
REDUCED STAFF
We will be rotating staff to reduce weekly commuting and reduce potential exposure.
The entire D&D team should be granted permission to enter your unit walk your pup. As we will be staggering work schedules for the safety of our team and in cooperation with state mandated labor restrictions.
ADJUSTED WALK WINDOWS
Because D&D will be resuming operations with a reduced staff, those looking to resume services this summer will have to coordinate a NEW SUMMER walk window with D&D management. Summer availability will be provided on a first come, first serve basis.
GROUP WALKS
We will leave all group walks and trips to the dog park up to the discretion of our pet parents.
 Adjusted walk windows are intended to give everybody an opportunity to have their Dawgs walked privately; should they feel most comfortable with that accommodation. 
***However it is worth noting, according to the AKC "This specific novel coronavirus (COVID-19) is not believed to be a health threat to dogs."
Day to Day – SAFETY PROTOCOL
It will be mandatory that all D&D staff wear face masks anytime they are in a clients home.
A fresh pair of gloves will be used for each and every pick-up.
We will supply and use our own leashes.
SCHEDULE A WALK
347.272.0464