Header 1
Here at Doors & Dawgs, we pride ourselves on knowing our dawgs and their personalities, recognizing that each one is different and tailoring our "TLC" to what they need. With over a decade of experience, we've become the dog whisperers of lower Manhattan and are here to help you raise YOURS healthy, happy, and confident.
We provide a safe, social environment to meet other pups
Create structure and consistency through our walks (dawgs dig that!)
Provide the perfect amount of exercise based on your dawgs needs
We believe the right way is the only way – no shortcuts – which includes setting healthy boundaries and using corrective methodologies when needed to help make your pup the best pup they can be.
We'd love to meet you and your dawg – reach out so we can set up an in-home consultation where we'll discuss your pet care needs, goals, and put a plan into action. Together, we can keep your dawg movin' in all the right ways – chest out & TAILS UP.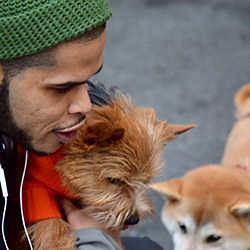 Meet Nick, the owner of Doors & Dawgs and your dawgs new best friend. Back when he was finishing up school, he started walking dawgs for the sheer love of the job. He quickly realized he had a nac for communicating with the dawgs and fell in love with building trust and creating relationships to improve upon each dawgs' unique challenges.
Having tackled a number of both behavioral and environmental obstacles, with hard work and love, slowly but surely each dog he invested his time and energy in, began to get better. And then he met Sam & Mitch, the most amazing pet parents. Having asked him to help train their newest bundle of fur, Bowie, the sweetest of Golden Retrievers.
He was introduced to one of NYC's BEST positive reinforcement trainers, Kate Perry, who tutuored him in basic obedience and socialization methodologies. Continuing his studies independently, as well as in collaboration with other more veteran trainers, he created a standard of dog walking second to none.
Today, Nick is focused on transforming Doors & Dawgs into a community of wellness for New York City Dog Owners – educating people on how to combat the specific challenges of owning a dawg in the big city, and how to love all of our four legged homies – the right way. The Doors & Dawgs way. Tails up!
---
List styles
Suspendisse dignissim
Nullam efficitur nunc
Etiam eu lectus at lectus
Etiam lobortis metus
In eget augue vel odio
Nisl ut aliquip ex
Suspendisse dignissim
Nullam efficitur nunc
Etiam eu lectus at lectus
Etiam lobortis metus
In eget augue vel odio
Nisl ut aliquip ex
Suspendisse dignissim
Nullam efficitur nunc
Etiam eu lectus at lectus
Etiam lobortis metus
In eget augue vel odio
Nisl ut aliquip ex
I can't tell you how incredibly happy I am with your service! And more importantly, my adorable Beagle does the happy dance every time you arrive. linda green